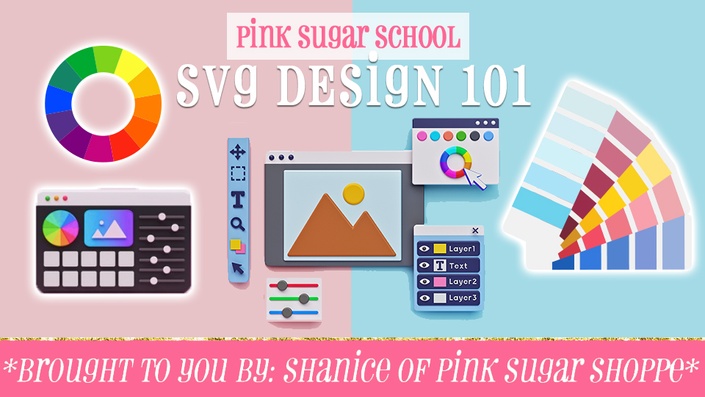 PSS SVG DESIGN 101
Learn how to create your own SVG's to use or sell! *PAYMENT PLAN AVAILABLE*
Enroll in Course
HEY YOU!
I've created the course just for you if you've ever been interested in learning how to create your own SVG's. Do you own a cutting machine and want to create designs for personal use OR maybe you want to create designs to sell as another stream of income? If you're like me, it's both! I create and use SVG's for myself AND I sell them. I have a shop just for my designs that has created another PASSIVE income streams. I've spent just a few hours a day creating a collection of SVG's that can sell for years! Now, I'm going to show you my methods of creating designs that work with all cutting machine programs and how to make sure they are easily used and cut not only by you BUT for customers. Does that sound good? Ready to go?

WAIT...
I didn't get to tell you what you'll get with the course! Before that...Let me tell you what you need!

-You'll need a computer! You can not use or take this course with a device such as a tablet or mobile phone. Make sure your computer has the compatibility to run Adobe Illustrator.
-You'll need Adobe Illustrator. You can grab a copy of that here: bit.ly/pssai

Do you feel you need to learn Illustrator first? This course will teach you all the Illustrator tools you need specifically for SVG's and there will be video instruction that walks you through every tool and how to use it. But of course if you want to master the program first.
You can check out my Adobe Illustrator 101 course here: https://pink-sugar-school1.teachable.com/p/pss-ill...
-You'll also need a mouse. If you have a laptop you can create no problem but it is MUCH EASIER to learn using a mouse. Certain techniques are always easier with a mouse.
-It helps if you have a cutting machine. I will show you how to upload your designs to both Cricut Design Space and Silhouette Studio to test. You do not need a machine to run these programs or test your SVG's but if you would like to test cut anything you will need one.

Okay, now let's get into what you'll get out of this course!

This course will include:
How to set up Adobe Illustrator
What a Vector Image is and why it's important to create in a vector program.
What a SVG design is and where you can use them.
Understanding Layers and how to use them.
Creating Designs using shapes.
Creating Designs using text.
Tracing Images.
Manipulating Fonts for custom Text.
Understanding Offsets and Compound Paths.
Creating clean, simple cuts that are easy for you and others to use.
Uploading to both Cricut Design Space and Silhouette Studio.
How to check your files before sharing or selling.
And soooooo MUCH MORE!!!
YOU'LL ALSO GET ACCESS TO OUR PRIVATE FACEBOOK GROUP AS SOON AS THE PURCHASE IS COMPLETE!
Learn and share with other students as you navigate your way through the course.
Ask questions in real time and get answers from me or whoever can help!
Post your projects and course assignments for accountability!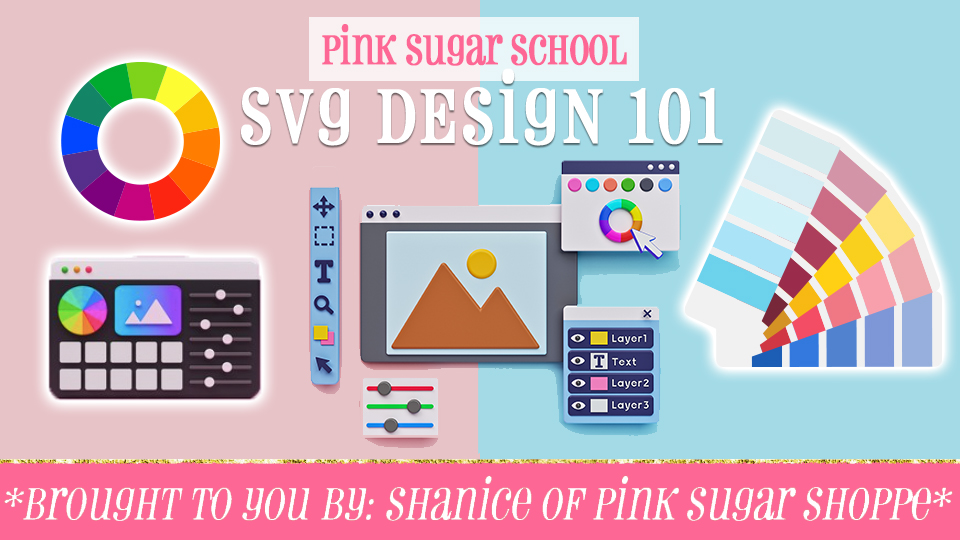 SVG DESIGNING HAS ALSO....
Led me to some really great opportunities. In 2019 I became the first African American contributor on Cricut Inc.'s Design Space program to create cultural designs for Black History Month.
I now have two collections and other solo art inside of the program. These are always contracted/commission based projects. Think of the opportunities you could position yourself for with these tools!
Wanna see a video of my designs on Design Space? Click here: https://vm.tiktok.com/ZMecVtkc7/
SVG DESIGNING HAS ALSO....

Given me a completely passive income stream. Check out my Etsy shop here: http://pinksugarsvgs.etsy.com
Here's some stats from one of my SVG's on the back end of my store. This SVG sold 125 times in 30 days and gave me $600. This was just one design in my shop that sells for under $5! Imagine having 10 designs that sell this well in your own shop. That's $6,000 dollars a month! Who couldn't use that? This is a great additional or main income stream and it's really easy to learn and set up. Your only overhead costs are the tools you need to create and your website and store fees!

There's so much freedom in taking SVG Designing to another level!
SVG DESIGNING HAS ALSO....

Allowed me to make

-Paper Cuts
-Party Decor
-T-Shirt and Apparel Designs
-3d Cuts such as boxes etc.
-Personalized items and gifts for my family and friends.
Your Instructor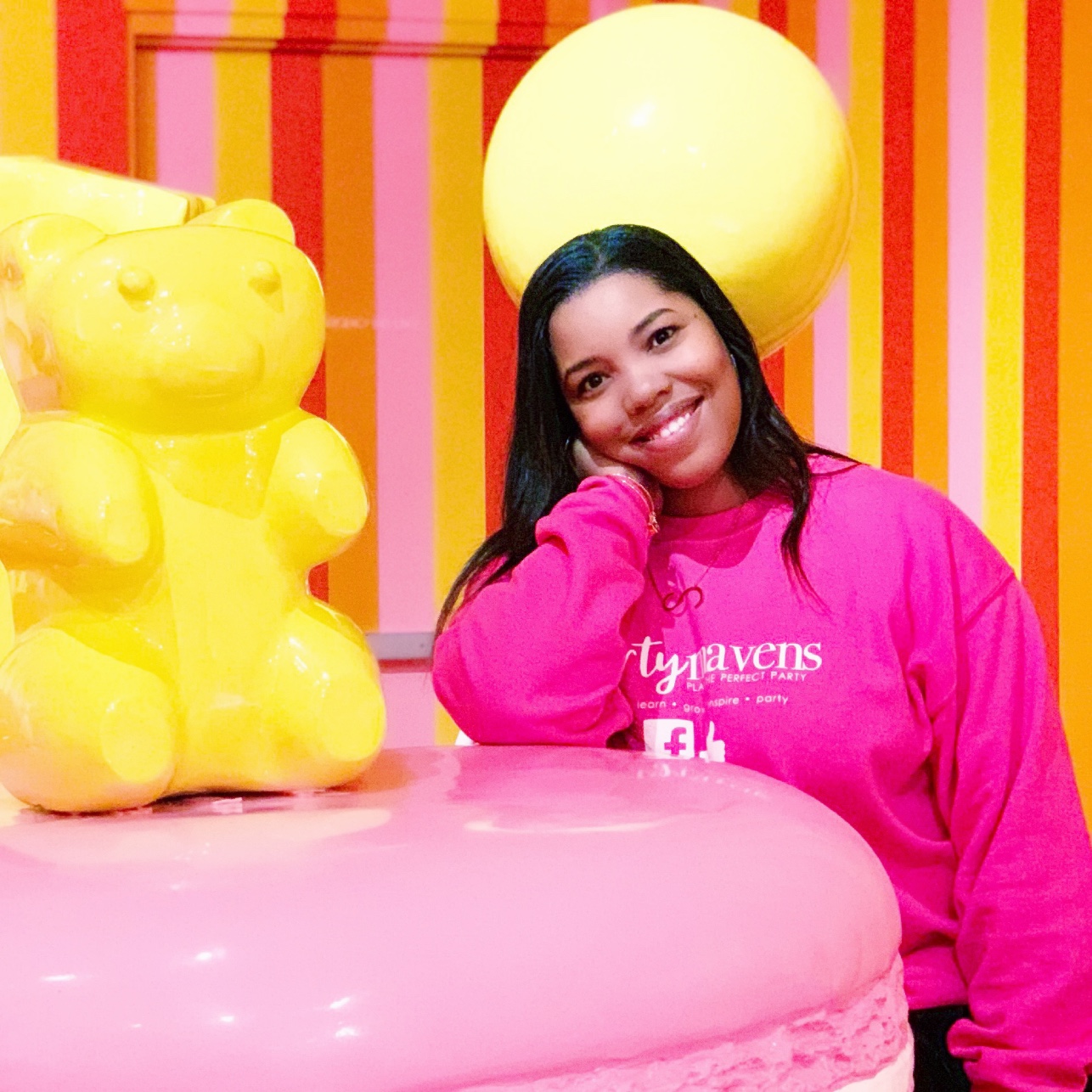 Hi, I'm Shanice! Graphic Designer, Party Enthusiast and your Course Instructor.
I've been teaching students different crafts since 2015! I pride myself in making things very easy when teaching. I have sold over 150,000 templates, mockups and courses to date and have thousands of students that make me proud everyday! I love helping others, so everything I pick up and try to master, I figure out a way to share it with the masses. I'm fueled by seeing others use the foundations I've created to be creative!! Can't wait to meet and teach you! XO!
Frequently Asked Questions
When does the course start and finish?
The course starts Friday 6/4 and never ends! It is a completely self-paced online course - you decide when you start and when you finish.
How long do I have access to the course?
How does lifetime access sound? After enrolling, you have unlimited access to this course for as long as you like - across any and all devices you own.
I really hope you take this journey and learn SVG DESIGNING with me! I can't wait to show you all of my tips and tricks. There's tons of BONUSES waiting for you at the end of the course. I can't give them all away but here's just two that make it totally worth it!
You'll get a FREE 3D BOX CUT FILE. With this file you'll be able to manipulate it and use it to create your own file to make and/or sell.
You're also getting a video that teaches you how to take your SVG's and turn them into stickers!
You'll also get a free copy/paste version of my TERMS AND CONDITIONS to be able to use if you decide to start selling.
There's a few more BONUSES but you'll only know once you're in! Hehe!
I'm so excited for you to start! Let's get to designing!